Hydro power plants harness the energy of falling water to make electricity. A dam backs up the water, creating a deep reservoir and a higher fall of water. In other words, the reservoir is a form of stored energy. When the water is released, its force turns a turbine. The turbine turns a generator, where electricity is produced.
How Hydro Power Works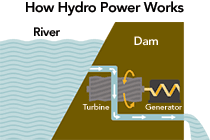 Winter "Thin Ice" Warning: Every winter, ice that forms near hydroelectric dams is often thin, unsafe and inconsistent. This is because of changing water flows beneath it. This is part of normal hydro dam operations. We take pride in operating our facilities safely and in a manner that respects the environment and the rights of other users of the waterways. Your safety is important to us. As always, avoid any winter recreational activities on ice near hydroelectric facilities.
Hydroelectric Plants - (wholly owned and operated by WPS)
River
Units
Total MW*
Date Built
Operating Mode
License Expiration
Otter Rapids
Vilas County
Wisconsin
2
0.5
1-1927
2-1924
Run-of-River
2030
Hat Rapids
Oneida County
Wisconsin
3
1.7
1-1923
2-1984
3-1984
Run-of-River
N/A
Jersey
Lincoln County
Wisconsin
3
0.5
1-1923
2-1920
3-1922
Run-of-River
2026
Tomahawk
Lincoln County
(Relicensing)
Wisconsin
2
2.6
1938
Limited Peaking
2018**
Grandfather Falls
Lincoln County
(Relicensing)
Wisconsin
2
17.2
1938
Limited Peaking
2018**
Alexander
Lincoln County
Wisconsin
3
4.2
1925
Limited Peaking
2035
Merrill
Lincoln County
Wisconsin
3
2.3
1-1917
2-1917
3-1984
Run-of-River
N/A
Wausau
Marathon County
Wisconsin
3
5.4
1-1921
2-1921
3-1924
Run-of-River
2026
Caldron Falls
Marinette County
Peshtigo
2
6.4
1924
Limited Peaking
2037
High Falls
Marinette County
Peshtigo
5
7.0
1910
Regulation
2037
Johnson Falls
Marinette County
Peshtigo
2
3.4
1923
Run-of-River
2037
Sandstone Rapids
Marinette County
Peshtigo
2
3.8
1925
Run-of-River
2037
Potato Rapids
Marinette County
Peshtigo
3
1.3
1-1926
2-1921
3-1921
Run-of-River
2037
Peshtigo
Marinette County
Peshtigo
2
0.6
1-1920
2-1924
Run-of-River
2037
Grand Rapids (MI)
Menominee County
Menominee
5
7.5
1-1940
2-1941
3-1945
4-1918
5-1923
Run-of-River
2037
** Relicensing effort
Hydroelectric Plants - (50% ownership by WPS)
River
Total MW* (WPS MW))
Petenwell
Juneau County
Wisconsin
20 (10)
Castle Rock
Adams County
Wisconsin
15 (7.5)
* Total MW Represented by Nameplate Rating
---